Because the best marketers deserve great content.
Subscribe today.
The True Challenge of Modern Marketing in One Chart
No matter what marketing function you perform — content marketing, social media marketing, digital marketing more broadly, traditional advertising — and no matter how large your organization, the chart below sums up a core truth of modern marketing. Resources might be rising slightly, but the amount of content (whether those are display ads, videos, social media posts, commercials, or other form of promotion) that has to be produced is growing faster than ever. Everyone, regardless of position or business, is feeling this squeeze. The good news: there are ways to manage your marketing workflow to become even more productive and meet the challenge. As the saying goes: work smarter, not harder.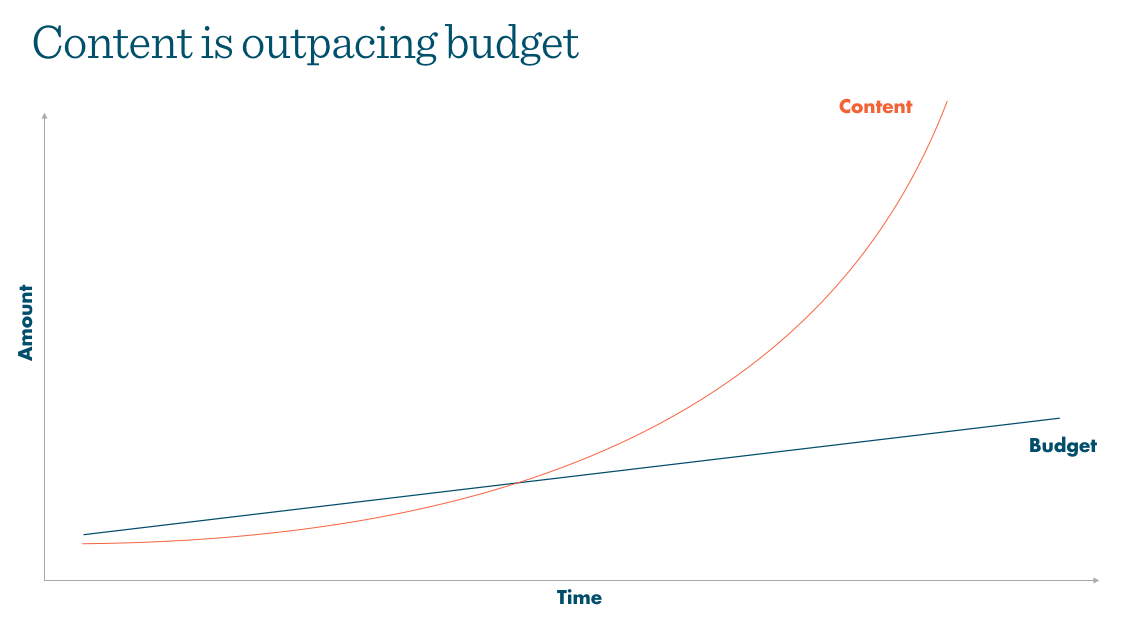 Of course, workloads are mounting because there's greater opportunity for marketing success than ever — as more regions gain more wealth and become increasingly interconnected, Marketing will move closer and closer to the forefront of the business. But it also means teams have to work as efficiently as possible to meet the outsized need for their content.
That's going to be hard for at least two reasons. First, we know that non-working spend is on the rise due to marketing workflow difficulties. Non-working spend is the amount departments spend on creating marketing content, as opposed to creating it — the designers you pay to crop and brand images, as opposed to the dollars that purchase the billboard space they'll take up. The majority of marketers say these non-working expenses will grow this year because of process and planning issues rather than because of a greater focus on quality.
Second, there just aren't many tools focused on solving those content creation pain points. We sweat and spend through the marketing workflow to create ads and social posts, multiple teams coming together to develop, produce, revise, and approve concepts. But only about 4% of marketing system is "content marketing" software, according to ChiefMarTech.com's latest supergraphic. Much of the remaining 96% is dedicated to distribution, or the "last mile" of marketing.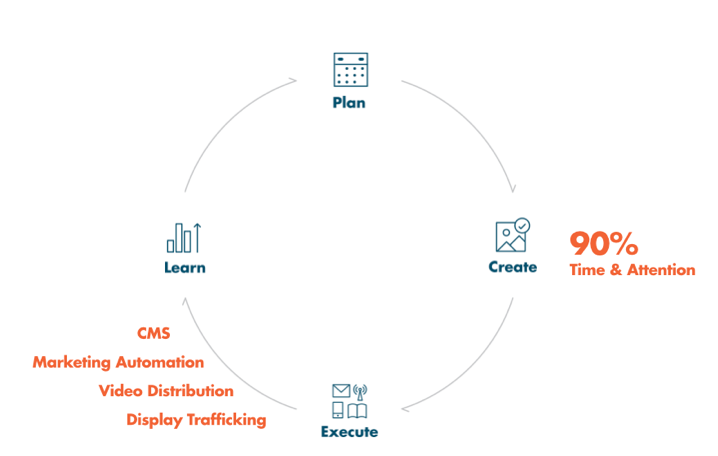 That's not to deny the necessity or importance of tools like data management platforms or content management systems to marketers. It's only to point out that they aren't enough; keeping up with the workload of modern marketing means combining technology and processes to accelerate the entire marketing workflow — initial planning, asset creation, campaign execution, and learning and analysis.
To help marketers redesign that process, we've deconstructed it into its core components in our new whitepaper, Toward a More Efficient Marketing Workflow. The report provides a framework and actionable steps for accelerating your creative workflow to maximize your marketing team's productivity, both internally and with external partners, agencies and vendors.
Using this framework, you'll be able to identify areas of excellence and fix points of breakage to continually and systematically improve your team's results.