Because the best marketers deserve great content.
Subscribe today.
Customer Satisfaction Isn't a Short-Term Play
There's little disputing that customer satisfaction is critical to brand growth. In fact, when you look Interbrand's top 10 list of brands that are consumer-facing and compare them with the University of Michigan's American Customer Satisfaction Index's benchmarks, nine of them beat the industry average, and they consistently come in at the top of their respective industries.
The importance of customer satisfaction is exactly why we're discussing it next Tuesday in our upcoming webinar, Beyond Branding: Designing Brilliant Customer Experiences. Percolate's VP of Design, Dom Goodrum, and Extraordinary Experiences author Denise Lee Yohn will share insights on how to build a customer experience program that grows brand and business.
But despite the proven value, customer service today seems to be slipping compared to the time period right after the Great Recession.
Overall customer satisfaction in the U.S. is at its lowest level since 2008, according to the American Customer Satisfaction Index from the University of Michigan. That might seem surprising, as Quartz points out — customer satisfaction has declined since the recovery from the Great Recession? Shouldn't the growth in income and spending mean more resources to contribute to efforts like service?
But the higher satisfaction ratings during the recovery stem in large part from two factors that were unique to the time in question, the ACSI says: less consumer cash and fear of joblessness.
"During this period of recovery from 2009 to 2014, companies had to compete for a smaller pie of consumer dollars with discounts, incentives, and better customer service," the ACSI wrote in its retail benchmarking report. Plus, "high unemployment made for a very competitive job market, which kept retail employees motivated to provide good customer service lest they be replaced."
Of course, brands can't depend on those factors to continue boosting satisfaction among customers. Not only are they temporary, but doing so ultimately means depending on short-term strategies.
And it leads you into these brand-damaging pitfalls.
1. Creating superficial financial benefits
"Discounts and incentives" will naturally inflect customer satisfaction, according to microeconomists everywhere; when a customer pays less money, the resultant value they receive is larger.
But growing brand also means — eventually — raising prices. A heavy reliance on discounts depresses costs only temporarily, so the perceived value is artificial.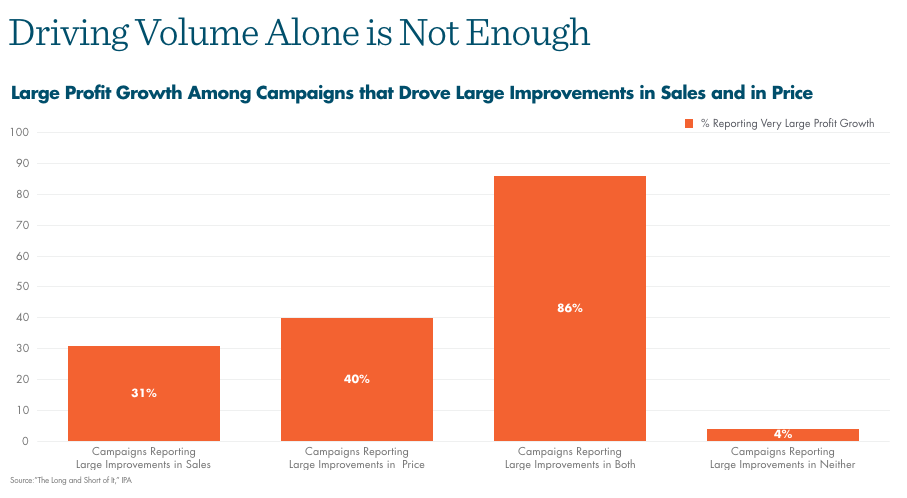 You can also lower perceptions of how valuable your offering is. At a psychological level, a brand risks setting a lower reference price than it should. That means that for the new customer, the discounted price can actually become the baseline cost in their minds.
And while the growth in sales volume may sound good in the short-term, brands grow only when both sales and price increase together. So if you try to raise prices when demand for your offerings is still highly elastic, you drag down sales in the long-term. And you end up with less satisfied customers, because the trade-off between price and utility isn't what they're used to.
The counterpoint: Not every brand marched to pricing wars, of course. Apple, for instance, has long been regarded as one of the pricier notebook and smartphone options, but demand for its products remained high throughout the recession. Today, it tops the chart of Interbrand's top 100 brands by valuation.
Apple CEO Tim Cook discussed some of the thinking behind its higher prices at a Goldman Sachs conference in 2013; it boils down to not compromising on the end product. When asked why the company hadn't released a Mac product for under $1,000, he responded: "Frankly we worked on that, but we concluded that we couldn't do a great product. And so we didn't."
For another example, Netflix famously raised prices in 2011 by 60% when it split its DVD-by-mail business from its streaming services. But subscriptions and revenue have only gone up since then. In 2015, Netflix outpaced other internet streaming competitors when it comes to retention — just 9% of Netflix subscribers cancelled, compared to Amazon Prime at about one-third and Hulu plus at about 50%, a market research firm found.
And this past January, it told shareholders it plans to raise prices again, by 25%.
2. Creating artificial experiential benefits
Emphasis on customer service grew when competition for limited consumer cash became heated—but it became less important as expendable income became more available, according to the ACSI's report. The ACSI also noted that employees felt more pressure to go above and beyond when the fear of being let go loomed.
In other words: customer service was abnormally high, creating expectations that were permanent even though the level of service wasn't.
Similar to reference price setting, great customer service starts to form expectations in a customer's mind. It becomes part of a brand promise, which can then feel hollow if it isn't lived up to. Authenticity matters to customers — thirteen of the 20 brands ranked highest in authenticity by Cohne & Wolfe are also on the Millward Brown Brandz list of the world's 100 most valuable brands. And as Bob Garfield and Doug Levy wrote in their book, Can't Buy Me Like: Authentic Customer Connections Drive Superior Results, "People who patronize you do not wish to be patronized themselves."
Better customer service can't be thought of as a temporary business tactic — a fad that catches on because everyone else is doing it. When customer service is a one-off tactic that is deployed rather than an immutable trait, it compromises the promise and, ultimately, authenticity of a brand.
The counterpoint: Brands need to build customer service into their culture and DNA. Culture is a component of your brand. The best brands build — or rebuild — themselves with the customer experience in mind, starting with internal culture first.
Popeye's Louisiana Kitchen is one example of that, as highlighted in Denise Yohn's Extraordinary Experiences. Faced with a decline in traffic and sales during the recession, the fast-food restaurant began an initiative to turn things around by starting with the franchisees who own on-the-ground operations and customer interactions. Leadership began involving franchise owners in critical discussions — such as development for new products, or whether to serve Coke and Pepsi at all locations — and listening to their concerns. It also created a purpose statement for themselves: "Inspire servant leaders to achieve superior results," placing customer service front and center.
The focus on customer service remains—and the company's operating profits have grown 40% over the last eight years.
It's an example of how customer experience is married to long-term brand growth. You can learn more about how to do it by registering for our upcoming webinar, Beyond Branding: Designing Brilliant Customer Experiences.