Because the best marketers deserve great content.
Subscribe today.
Why Content Marketing Will Move Martech Forward
Yesterday, Scott Brinker of ChiefMarTech.com released the 2016 edition of his now (in?)famous Marketing Technology Landscape supergraphic, charting over 3,800 systems over 6 broad clusters of capabilities: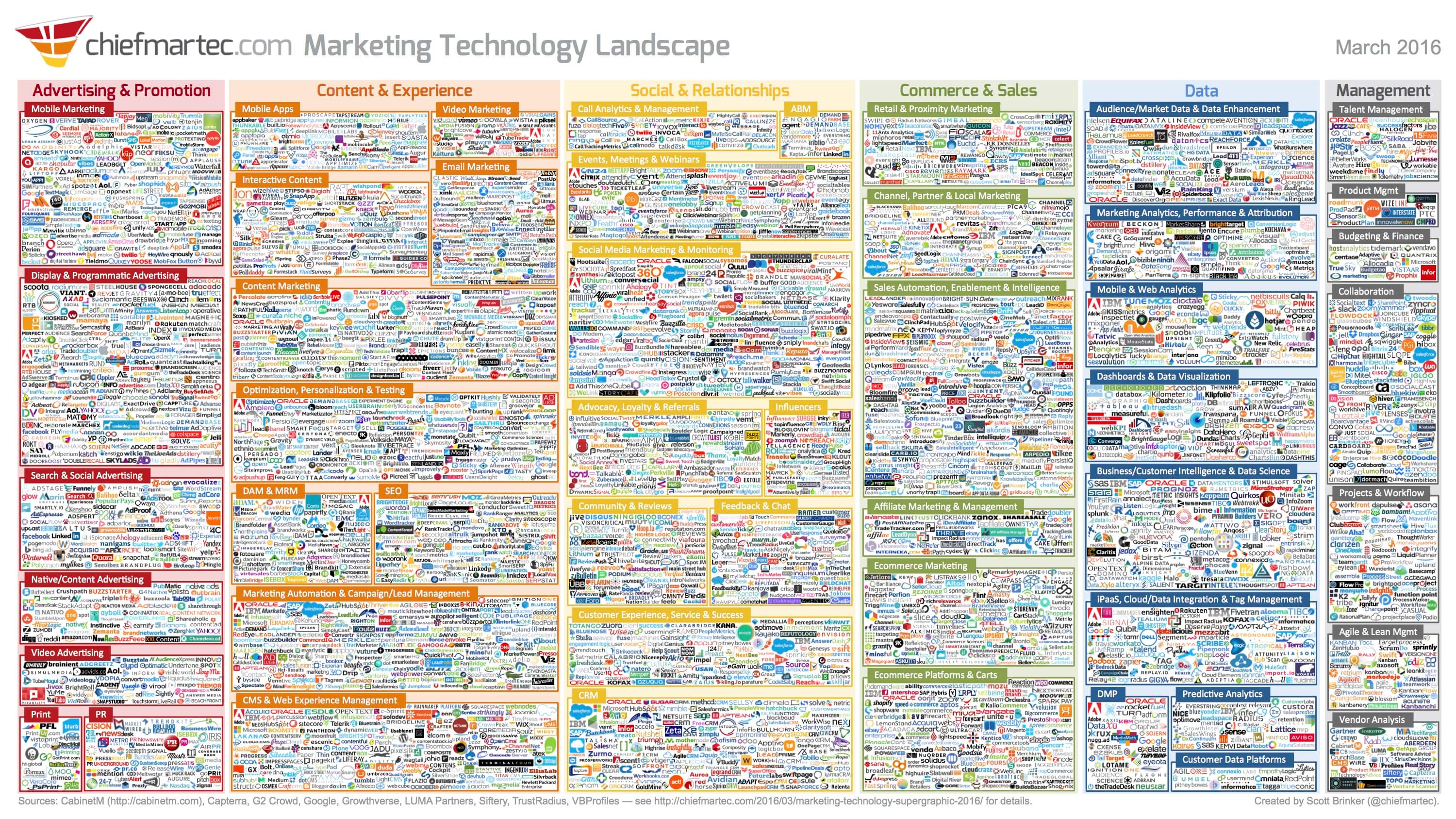 It's more than double the size of the 2015 landscape (featuring "only" 1,876 vendors, which itself is up from 150 in 2011). It's easy to look at it and feel overwhelmed. It doesn't totally help with actually selecting a vendor. More than anything, the image gives us a quick visual sense of how massive the marketing tech industry might be; as dense as it is, it isn't a comprehensive look at every single marketing technology out there. It does include Percolate, however — check the very top left of the content marketing category.
It's also partly a reflection of how companies are using and adopting marketing technology. For example: the 2015 landscape included "infrastructure" and "platform" sections across the bottom of the graphic which Brinker did away with in his most recent graphic, because many marketing teams haven't come to rely on a single, foundational platform that hosts other apps on top. Instead, we see multi-platform stacks; multiple ecosystems have risen to service general needs needs like marketing automation and CRM, and those ecosystems are connected together.
With that in mind, it might be worth taking a look at Brinker's more minimalistic version of the graphic: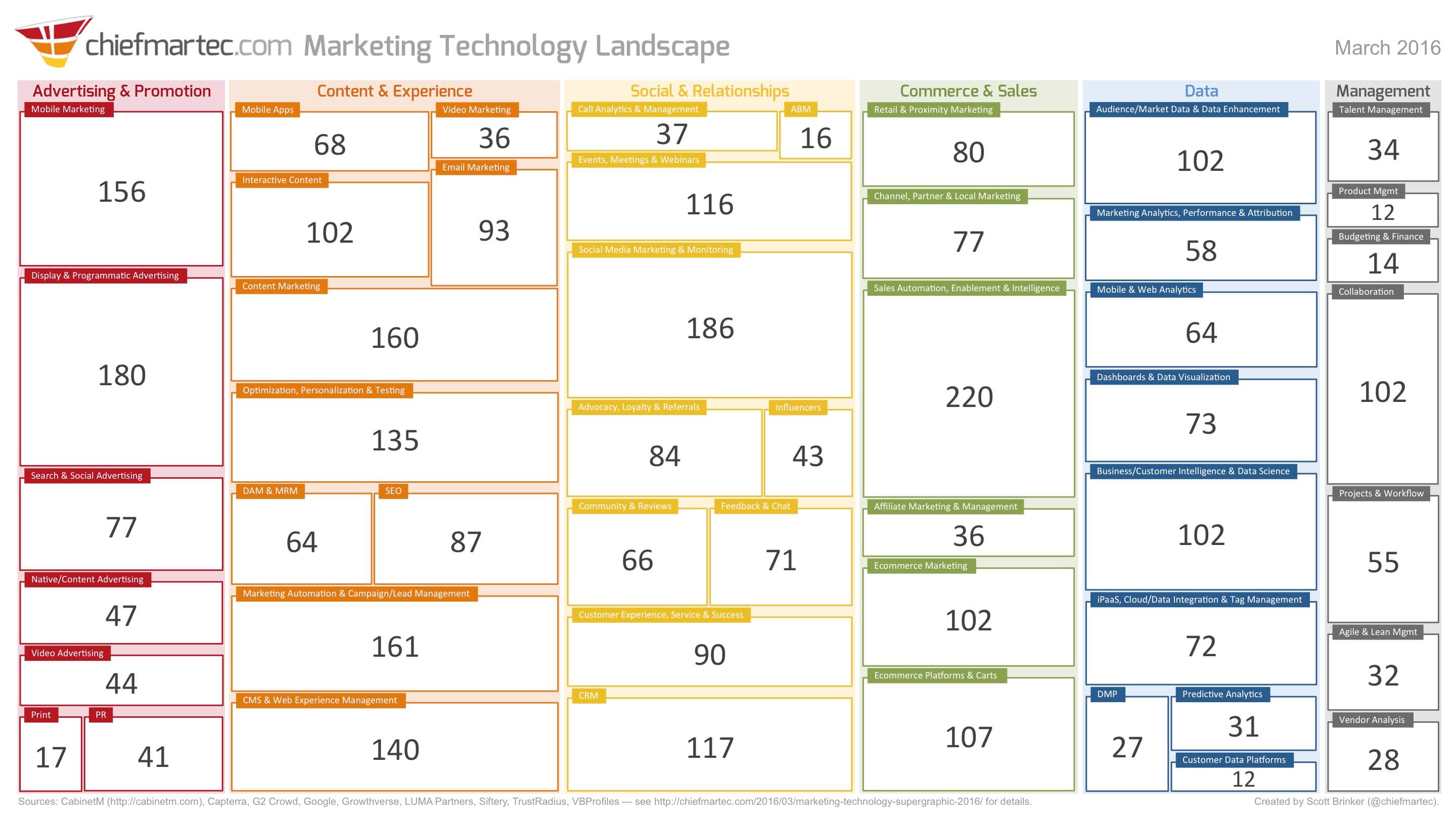 What struck us was just how much software there was dedicated to items other than content creation. About 96% of the listed offerings fall outside of the "content marketing."
"Content is the atomic particle of all digital marketing."
That saying can be traced back to Rebecca Lieb, an analyst at Altimeter Group. And content marketing, as long as the term has been around, is still challenging for brands not least because new media and formats emerge, fade away — and sometimes, come back. Apple, for instance, just announced that it would once again release a four-inch iPhone, years after releasing the larger iPhone 6, causing angst among marketers creating mobile-optimized content.
It's the sort of environment where a good content creation platform deserves primacy. If there is a category of marketing tech that should be thought of as the foundational layer for marketers, we would say it's content marketing. That's because the content you plan and create is the cargo of your entire marketing supply chain — the fuel for every other category on the technology landscape. You nurture potential customers with content, you update your website with content, you post content to social, your rank in search is determined by your content, you collect data on your audience after they engage with content, you use that data to serve even more content, you link to content in display ads…
So while multi-platform marketing technology stacks are today's reality — one for ads, one for CRM, one for email marketing automation — those platforms only thrive when they have the right content upfront.
But we've noted before that content creation inefficiencies will be a major problem for brands in 2016. So take the time to find a content marketing platform that suits your needs; despite it's relative size, it's still the fifth-most crowded category on the landscape. Among the things to look for in a solution:
You can find more essential content marketing platform capabilities in this resource. Take the time to investigate and invest in the true backbone of marketing.