Because the best marketers deserve great content.
Subscribe today.
Six 2016 Trends We're Looking Out For
You can't be a marketer without also being a forecaster. That's tough in the digital age of complex customer journeys, when change is rapid—but that same environment makes it all the more important to identify the driving forces that will impact the decisions we make and how we execute them.
And as the year winds down, it's important to take stock of the marketing, advertising, and brand management landscape even as we charge at our end-of-year goals. Below are six trends we think will meaningfully impact marketers' priorities and the way they do work.
1. The Rise of the Global, Connected Middle Class Means You'll Need a Worldwide Focus
We can't write a trends piece without making note of the broadest global changes in consumer spending.
Despite what you may have heard, the world is becoming richer. By 2030, nearly two-thirds of the global population is projected to join the consumer class.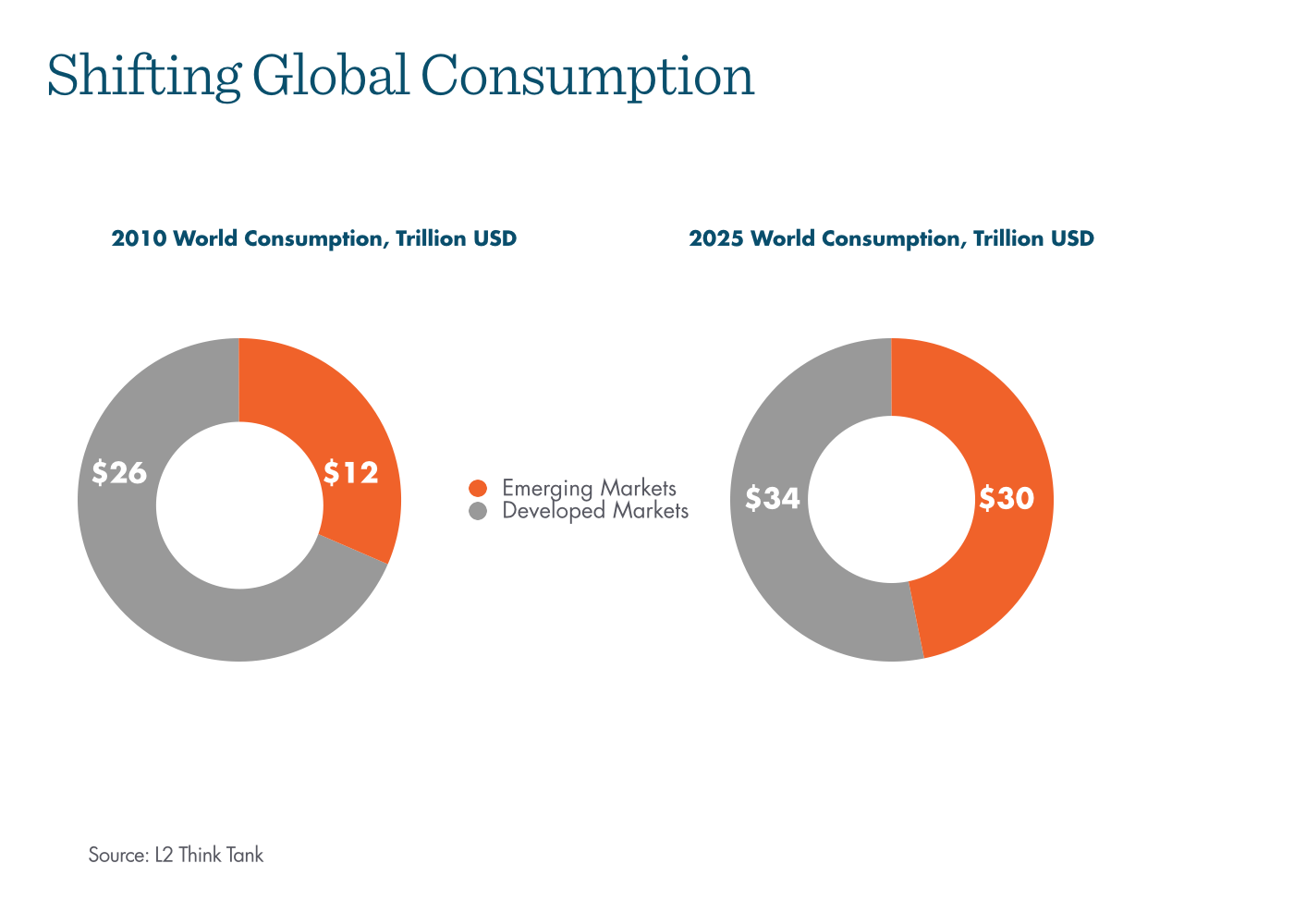 At the same time, more of the world is on the web:
And even the most remote parts of the world are becoming increasingly connected.
The takeaway: more buyers around the world that will draw more of marketing's focus.
2. Brand Consistency Will Become a Larger Priority — But More Difficult to Manage
As your company chases after the global five billion, you will need a way to find consistency across all your markets even as you localize brand.
This has always been true. But new levels of expansion brings new demands for marketers. Big brands have already started making drastic changes to their identity for the sake of consistency. The most notable was probably Google's logo change in the wake of their Alphabet reorganization. As the company explained on its design blog, one of the chief reasons for the change was the need for "a systematic approach to branding in our products to provide consistency in people's daily encounters with Google." For instance, the old, beloved logo looked different in regions with low bandwidth — the new one looks exactly the same.
The new logo's reduced file size avoids this workaround and the consistency has tremendous impact when you consider our goal of making Google more accessible and useful to users around the world, including the next billion.
Other large tech companies that are high visible across regions, channels, and devices have also redesigned logos too with consistency in mind, like Logitech, Verizon and even Facebook.
3. Video Will Fuel Mobile's Growth and Vise à Verse
Related to increased connectivity is the adoption of mobile all over the world. Almost three-quarters of the world had a mobile device by the start of 2015.
And we're posed to spend more and more on mobile advertising:
But these expenditures need to take into account how how video fuels mobile use.
It works the other way, too; mobile is allowing us to spend more time consuming content.
That means the intersection of video and mobile will become an increasingly attractive spot for marketers.
4. Ad Blocking Won't Retreat
Publishers are increasingly worried about the rise of ad blockers, which threaten revenue streams.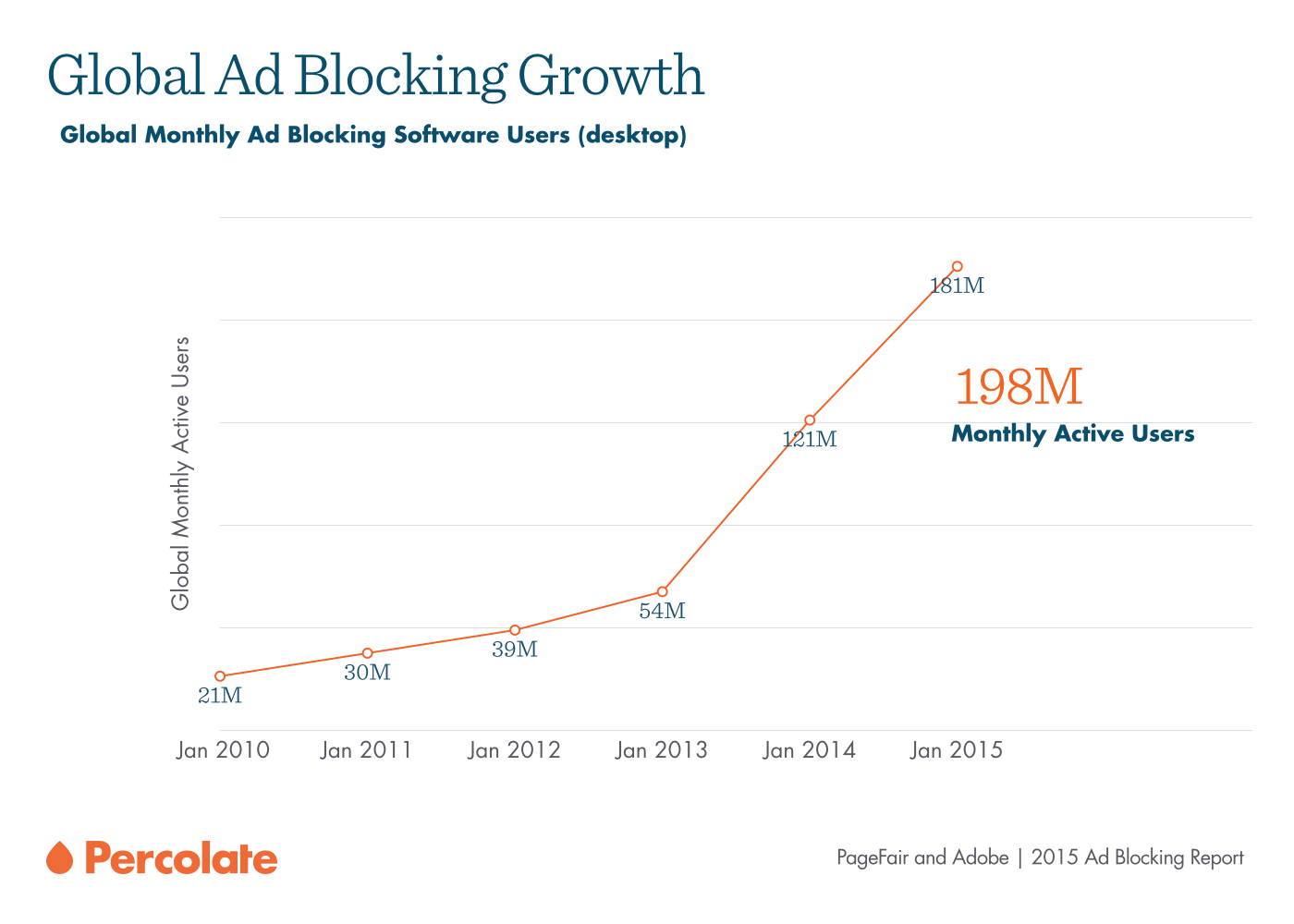 Ad blocking is not limited to desktop, either. Earlier this year Apple opened the floodgates for an entire market of ad-blocking apps.
Some marketers say they aren't worried about them. It's true that marketing metrics probably won't take a nosedive too soon, but the growth of ad blocking use should prompt the question: how do you evolve advertising—whether that's a mobile ad, a video, or something else—to not seem so much like an ad?
5. Content Marketing Will Evolve and Thrive
It's hard to define content marketing — but in general, if it provides more than just a brand impression, it likely qualifies. And more and more ads will try to come off less like advertisements.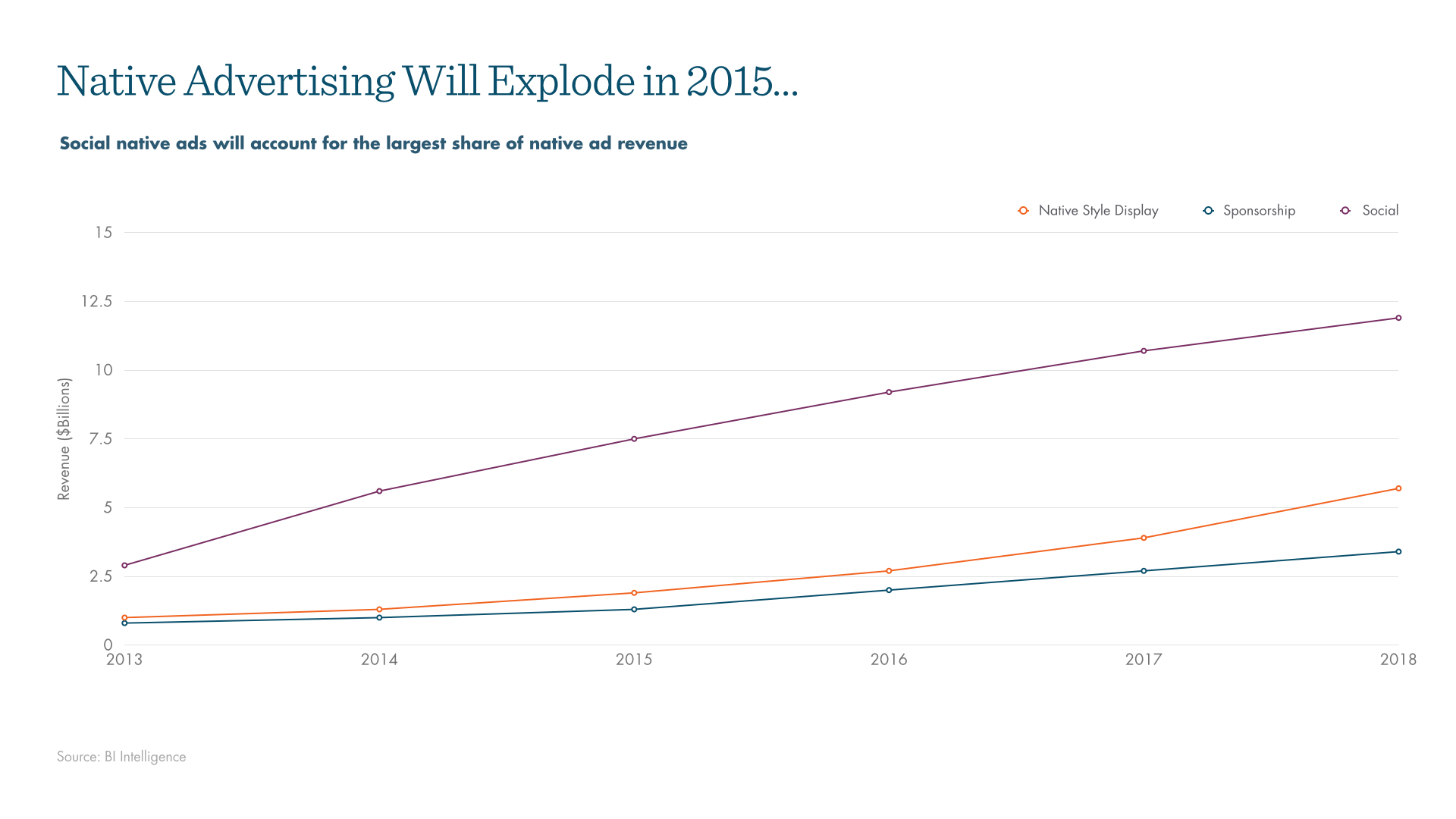 For instance, car manufacturer Honda created an interactive experience called "The Other Side" for its Civic Type-R vehicle, which asked users to press "R" on their keyboards to flip between two videos that tell the same story together.
An interesting corollary to this trend: publishers will increasingly take on content marketing workloads for brands. The New York Times' T Brand Studio has provided a new space for marketers to inform audiences with stunning visuals, and Mashable created an online shop that's actually an ad for Visa's new Checkout payment service. The Atlantic and BuzzFeed have already generated strong results from the work they've performed.
5. But Non-Working Spend Levels Need to Stay in Check
In the fall of 2015, Percolate surveyed over 300 enterprise U.S. CMOs, VPs, and Marketing Directors about non-working media expenses: the dollars spent producing creative, as opposed to putting it in front of an audience and driving brand awareness.
We'll be presenting our findings soon. But results indicate that as much as two-fifths of the advertising budget is tied up in non-working expenses, with little indication of slowdown.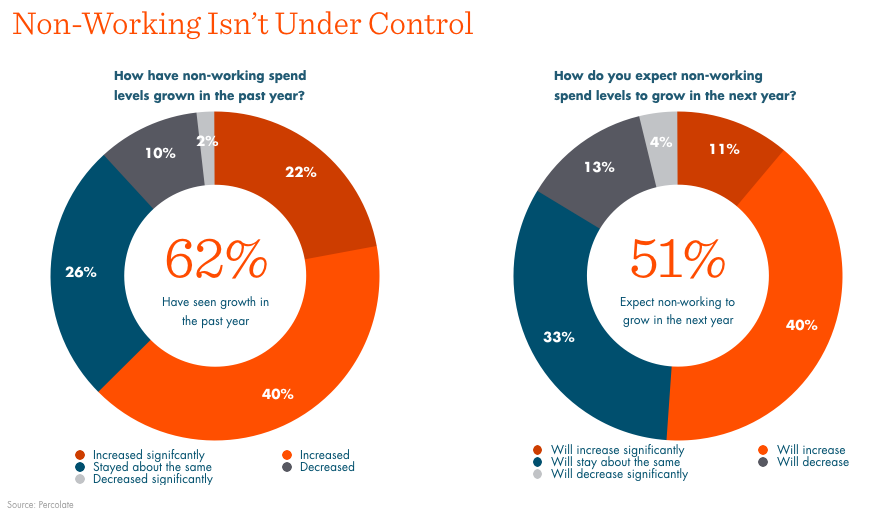 6. A New Class of Marketing Tech Will Start to Emerge to Redefine Advertising
The first banner ad on a website reached a 44% click-through rate. These days, they have trouble making it to half a percent.
It goes to show that new technology and formats can help advertisers grab attention. For instance, ads that build off of the innovation of mobile to geo-locate audiences help drive engagement better than others.
Mobile isn't the end of the line. New types of marketing technology companies have emerged — and are receiving funding — to find new ways to collect information and help brands grab the attention of potential buyers.
New hardware means new formats and channels to reach audiences, too. Augmented and Virtual Reality might generate over $150 billion in revenue by 2020.
We're excited for 2016 and what it means for advertising. These trends will mean new places and new ways to engage with customers. To keep up with demands to serve more markets and more channels with relevant creative, senior marketers will need visibility into global marketing activities and systems for coordinating messaging and production. We'll be here to help.
And if you need more trends, take a look at The 50 Most Important Marketing Charts of 2015.